Environmental and Social Justice Blog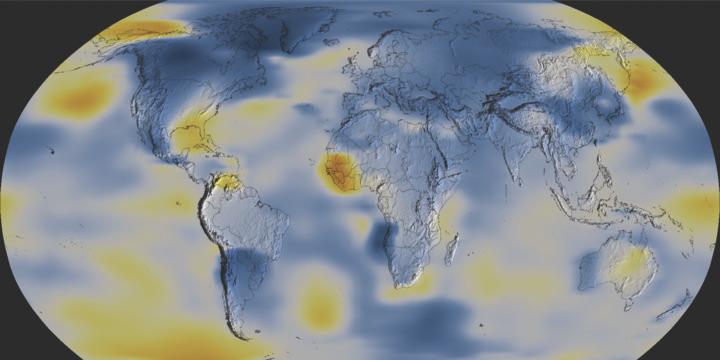 Global surface temperature 1884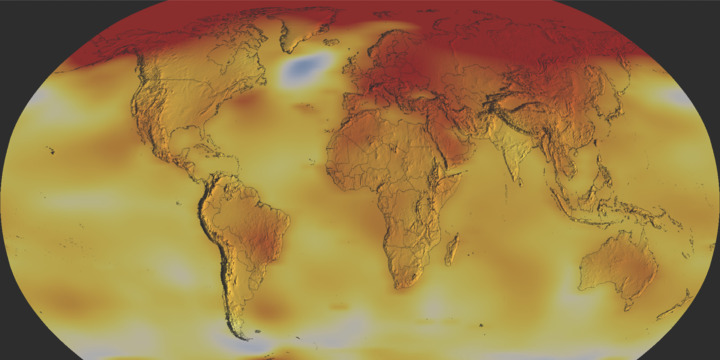 Global surface temperature 2020
(Images from NASA Scientific Visualization Studio. An interactive map showing the progression can be found here.)
The Wizard Bill Gates
by Will Daniels
In his 2018 book The Wizard and the Prophet, Charles Mann described opposing visions of how to save the world. The Wizard is Norman Borlaug, a scientist whose breakthroughs in plant breeding ushered in the Green Revolution that made possible feeding the world's burgeoning population. The Prophet is William Vogt, an ecologist who warned that science and technology would not save the world, but might in fact contribute to despoiling it. The revolution needed, as he described it, is one of human consciousness: we must learn to adjust our needs and desires to what the earth can sustain.
Those opposing visions illustrate the poles of our modern debate over the environment. Do we continue to manage nature, expand our presence, and use more technology to fix the environmental side-effects, or, let nature take the lead, scaling back as we see more clearly what the health of natural systems requires?
In How to Avoid a Climate Disaster, Bill Gates weighs in with a wizardly solution to one major aspect of our environmental crisis. He does not speak as a rah-rah technologist uninterested in reducing consumption and development, but from his expertise in bringing innovation to problem-solving. Co-leading the Gates Foundation, with his wife Melinda, has shown him the complexity of achieving the basic standards of health and wealth so urgently needed in the poorer countries of the world. That achievement will require generating much more energy — a challenge in itself, but even more so as it needs to be derived from clean sources.
The realist Bill Gates tells us that we cannot raise up the world's poor and also reach a goal of zero carbon emissions "by flying and driving less." No amount of attitudinal change will deliver us from a frightening climate future. In Charles Mann's terms, the Prophet's desire to live in harmony with nature can be fulfilled only with the Wizard's help in ensuring that nature can endure our impacts with minimal further damage. That will require tools of technology we do not now possess, and probably some that we haven't imagined.
To his credit, Gates rejects pure techno-fixes. Although a committed capitalist, he doesn't trust markets to get us to net-zero. As one example, markets can be essential with the help of government policies enacting prices on producers of carbon dioxide.
Central to Gates' message is utilizing zero-carbon technologies. But, developing them is not enough. To be adopted by consumers, the initial higher costs—which he calls the "green premiums"—must be level with, or lower than, the costs of our fossil mainstays.
I recommend this book for a comprehensive, non-technical summary of the full task ahead of us. I had not known, for example, that producing steel and concrete releases more carbon into the air than the fuel burned to heat the material. The raw materials themselves create carbon emissions during production. Either new ways have to be found to make steel and concrete, or the carbon needs to be captured before it escapes into the atmosphere. Gates delivers similar explanations for five major areas of our economy: the power grid, manufacturing, agriculture, transportation, and heating and cooling.
A bonus to readers is Gates' light and self-deprecating touch. He wears his geekiness well and is not the sort of Wizard who is sure he has the answers. He pulls no punches, however, when it comes to the unprecedented difficulty of realizing a new energy paradigm for humankind. Cautiously optimistic, he tells us we might be able to succeed: We have no choice but to try.
Acting Locally: Food Security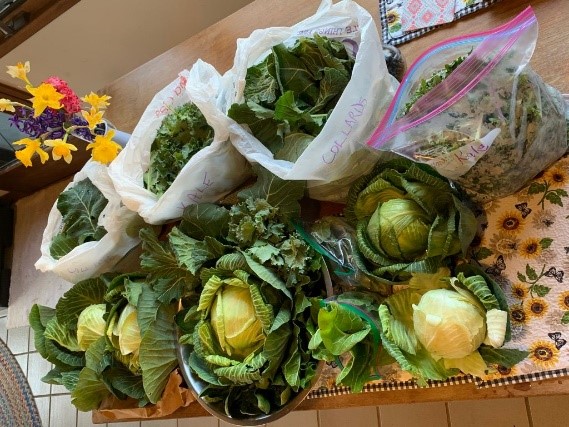 Overwintered produce from Amissville garden
Food security is impacted by climate change, and addressing it locally is a long-standing effort of the Unitarian Universalists of the Blue Ridge. Last year, a garden plot in Amissville was donated by a friend of the congregation to use in our efforts to provide produce for local residents through the Rappahannock Food Pantry. ESJ member Ellie Clark recently harvested cabbage and other green vegetables that overwintered in the garden and donated them to the pantry. The garden beds will be planted again this year. Volunteer help is welcome, particularly if you live near Amissville. If you are interested, leave a comment below and we will be in touch!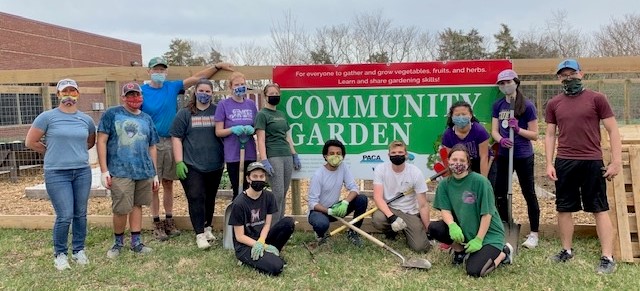 Community garden in Stanley, Page County
In Page County, the community gardens are a project of the Page Alliance for Community Action, working with other community groups and individuals, including ESJ members. Last year's garden, in the town of Stanley, provided more than 600 pounds of vegetables to local food pantries, schools, and nearby residents. Seasonal greens were planted a few weeks ago and are already being harvested and delivered to the Page One food pantry.
A new community garden has been created, fenced, and planted by volunteers. It is located at the Valley Health facility in Luray. Cool weather vegetables are growing, and warmer weather plants and seeds will be planted later. ESJ members Bridget Harrison and Will Daniels joined the efforts in both gardens in recent weeks. The work will be ongoing throughout the growing season.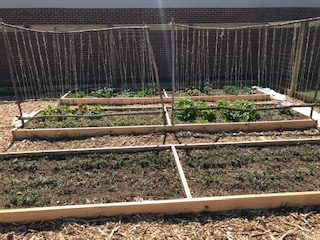 New community garden in Luray
Invasive Alert: Spotted Lanternfly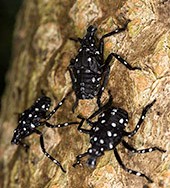 Spotted Lanternfly: Black Nymphs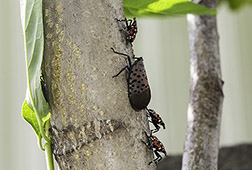 Spotted lanternfly – winged adult and red nymphs
(Images by Stephen Ausmus, courtesy of USDA Agricultural Research Service)
Climate change may also cause invasive alien species to spread more widely. The spotted lanternfly, a highly invasive insect pest native to Asia, was first discovered in the U.S. in Pennsylvania in 2014. In 2018, it was detected in Winchester/Frederick County, Virginia, and is now found in Clarke and Warren Counties. It prefers feeding on Tree of Heaven (Ailanthus altissima), but will also feed on grapes, peaches, apples, maples, walnuts, hops, cucumbers, and basil. It spreads rapidly when introduced to new areas and has great potential to impact the state's wine, orchard, logging, and other industries, as well as being a serious nuisance to homeowners when present in high numbers.
Learn how to recognize, report, and prevent the spread of the Spotted Lanternfly here: https://ext.vt.edu/agriculture/commercial-horticulture/spotted-lanternfly.html
To our readers: we invite you to use the comments section below not only to give your thoughts on what you read here, but to recommend things to read, watch, or listen to related to environment and social justice. Also of interest are your own activities or accomplishments in the environment/social justice realm.