Environmental and Social Justice Blog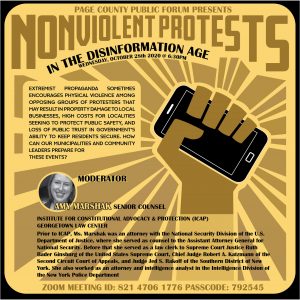 Social Justice
"Nonviolent Protests in the Disinformation Age": This online event is being hosted by the Page County Public Forum at 6:30 p.m. on Wednesday October 28. Information on logging into Zoom for the forum can be found here. The Front Royal Chapter of Coming to the Table, which several of our members belong to, has designated the forum as its virtual meeting for this month.
Black Lives Matter Vigil: Several members of the congregation continue to participate in these vigils on Saturday mornings at Courthouse Square Plaza in Warrenton, beginning at 10:00 a.m. This weekly event will continue at least through the Presidential election. Russ Savage, our minister, has been a faithful volunteer—and sometime speaker—at these vigils. 

"The White Ally Toolkit": The ESJ Committee highly recommends this and other communication methods originated by David Campt. He breaks down Civil Discourse in a clear and practical way with simple exercises that we can all integrate into our attempted communications with those who disagree with us: www.google.com/search?tbo=p&tbm=bks&q=inauthor:%22David+Campt%22&safe=active.
Promoting Regional Cooperation
Local businesses, community members, and government officials from Shenandoah, Page, and Rappahannock Counties are participating in cooperative efforts to promote tourism and workforce development. Lisa McQuail, who chairs the UUBRidge Environment and Social Justice Committee, has organized and participated in meetings and conversations related to these efforts.
On October 16, Jay Grant, Deputy Director of Virginia Department of Housing and Community Development (VDHCD) (www.dhcd.virginia.gov) spoke to interested parties about Virginia Block Grants, which are administered through planning districts. COVID-19 emergency funding through the CARES Act and "Go Virginia" (govirginia.org) has provided the grants. Future funding will need to come from the next COVID-19 federal funding bill and funds allocated by the Virginia Assembly.
Grants for workforce development, housing, energy development, broadband, food security, entrepreneurship, and small business resiliency—could positively impact our counties and region.
Before COVID-19, Lisa had participated in discussions on possible regional grants and on developing a regional African-American History Trail and driving tours. A result of the October 16 meeting is a proposed "Route 211 Corridor" tourism project. If Fauquier County joined the effort, the corridor could extend from Warrenton, in Fauquier County, through Amissville, Washington, and Sperryville in Rappahannock County, on through Luray in Page County, and then through New Market and Timberville in Shenandoah County.
Two COVID-19 safe tours (using walkie-talkies for people driving their own vehicles) also have been proposed:
An African American History tour could begin in Culpeper and traverse Rappahannock County, Shenandoah National Park, and Page County, ending at the Shenandoah Valley African American History Center in Shenandoah County.

Community Garden Driving Tours could feature gardens in Rappahannock, Page and Shenandoah Counties that provide produce to food pantries, such as Waterpenny Farm, which regularly donates to the Rappahannock Food Pantry and in Fairfax County, and the Stanley Community Garden in Page County sponsored by Valley Health.
Food security and community gardening funding will be on the agenda for the regional group's next meeting. Other regional projects are anticipated in 2021 and, perhaps, monthly tourism projects could be developed in the future if there is interest.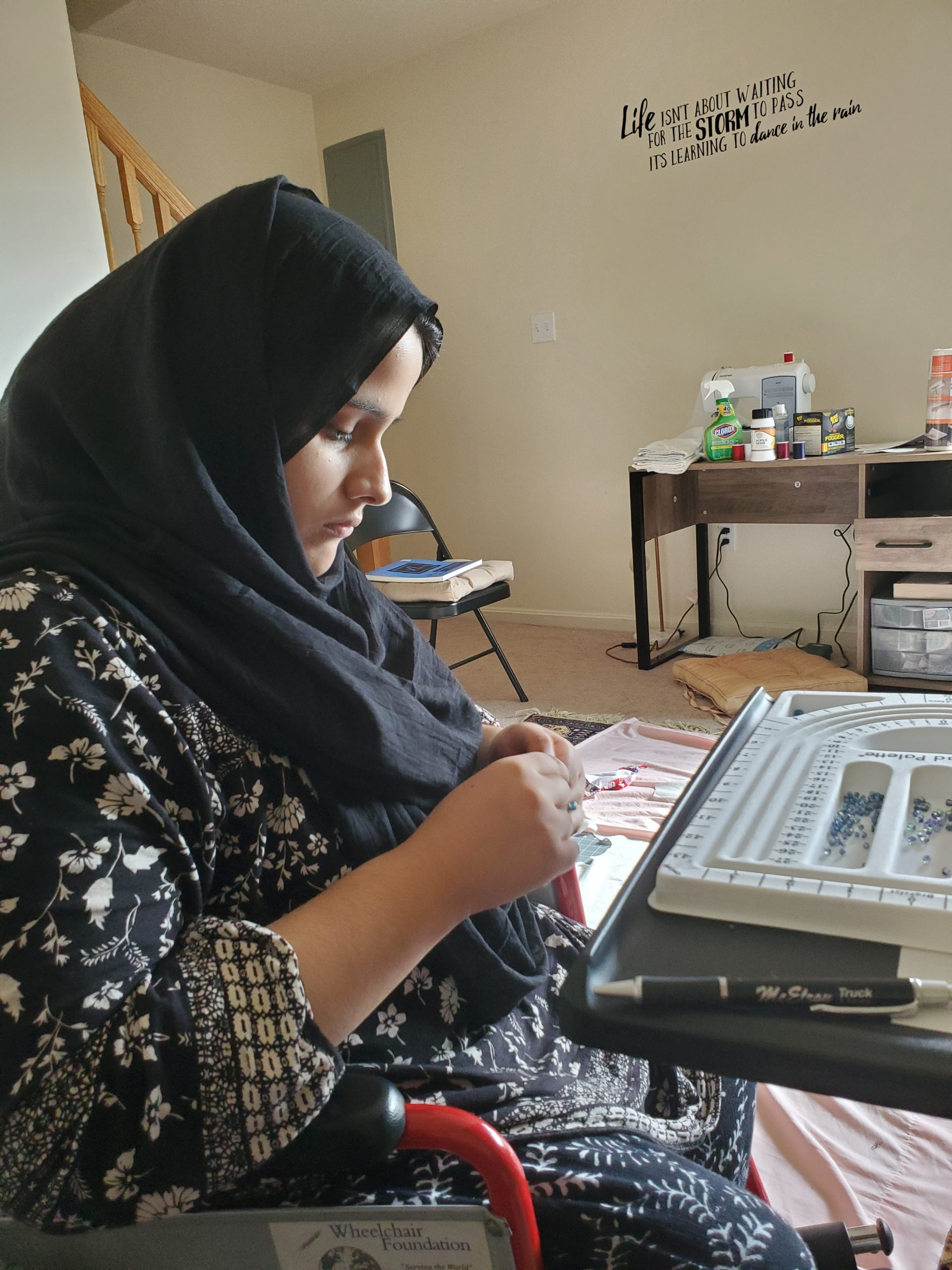 A refugee from Aghanistan making jewelry.
Workforce Development: Cottage Industries in Jewelry and Sewing
Workforce Development is another category of Covid-19 funding available through the VDHCD. Sewing (masks and other projects) and jewelry-making efforts are underway and could be advanced through regional grant funding.
Current participants include five refugee women (one of whom is disabled), and a woman displaced by COVID-19 who is living in a hotel with small children and no daycare available. Three sewing machines have been distributed. Another refugee family has been advised on the purchase of a sewing machine. The goal is to formalize a business for these women and then market their items online or in local markets in time for the Christmas, Hanukkah, and Kwaanza buying seasons. Susan Rocke of Shenandoah Moon in Luray has been teaching Lisa jewelry-making skills so that they can train low-income women.
Funding through the proposed regional group would at first go to the purchase and distribution of materials or for producing virtual ZOOM lessons, and—post-COVID-19 pandemic—perhaps to pay rent on a training space and on transportation to a central training facility. The grant could allow for trainers in jewelry-making, sewing, and needlecraft from the participating counties to be hired, with ESJ and other community members volunteering with the program.
—Lisa McQuail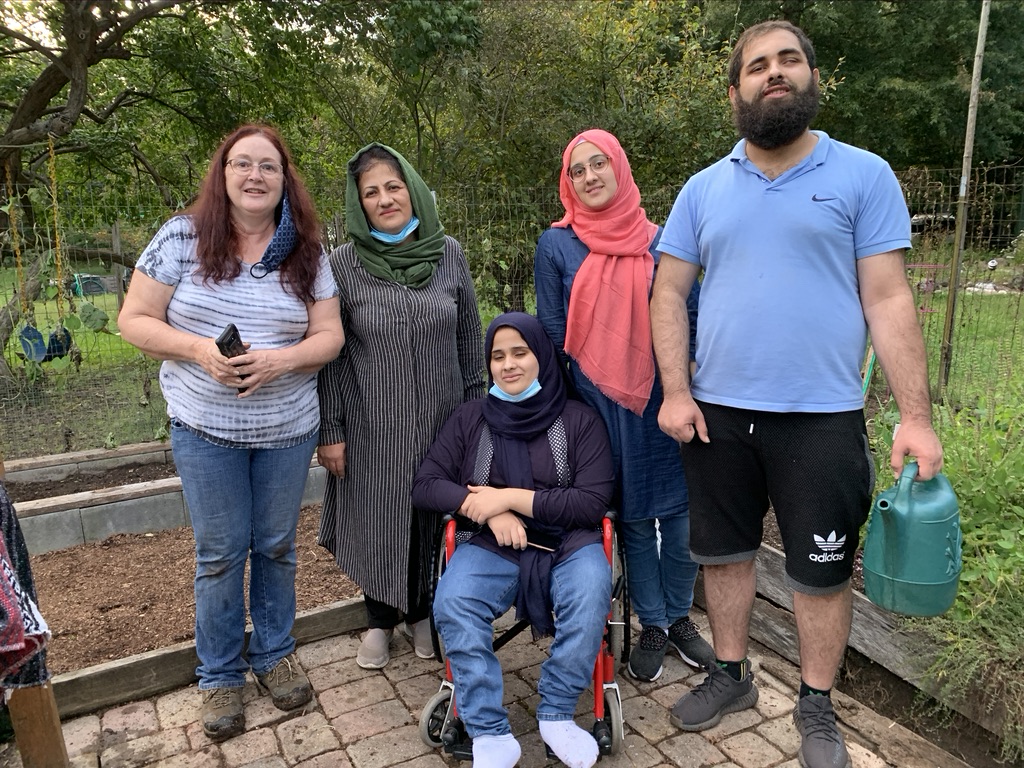 Lisa McQuail with volunteer gardeners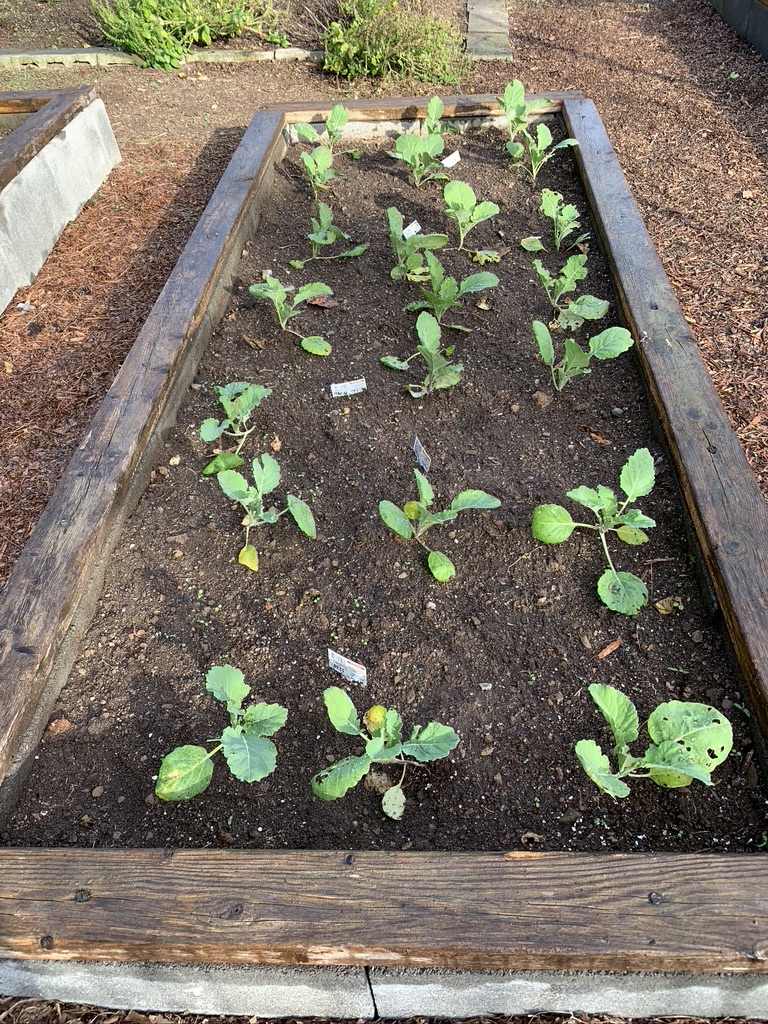 More Gardening for Food
In late September, a generous Amissville resident graciously donated an established, raised-bed vegetable garden for a team willing to manage the garden and deliver the produce to the Rappahannock Food Pantry. The existing plants provided some zucchini, chard, and kale, which were welcomed by the pantry.
Several Afghan refugees now living in the Shenandoah Valley joined ESJ members Lisa McQuail and me to plant seedlings of lettuce, cabbage, Brussels sprouts, and spinach. With rain and a little watering, the vegetables grew well, and it was soon time to protect the plants from danger of frost. Waterpenny Farm provided ground-cover cloth, and now the garden has been tucked in for the winter. We would welcome more gardeners to join our team, perhaps some folks from the Amissville area.
— Ellie Clark
Enjoy the beautiful fall scenery — and don't forget to vote! By mail or in person!
To our readers: we invite you to use the comments section below not only to give your thoughts on what you read here, but to recommend things to read, watch, or listen to related to environment and social justice. Also of interest are your own activities or accomplishments in the environment/social justice realm.