Environmental and Social Justice Blog
SimpliRural – Black Lives matter
by Jay Allen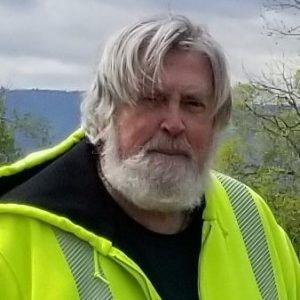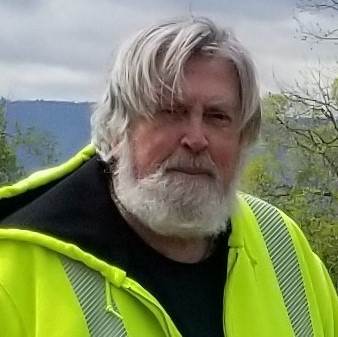 For 48 straight Saturday mornings, a Black Lives Matter vigil has been held by the Courthouse near downtown Warrenton. Since June 2020, following the killing of George Floyd, participants diverse in race and age have gathered there peacefully. An occasional speaker opens or closes our sign advocacy. The most recent speaker was an Asian-American high-schooler sharing her advocacy efforts regarding Asian hate.
Regular UUBRidge participants include Rev. Russ Savage, ESJ member Ellie Clark, and my wife Karen and me. Ellie attended most of the vigils last fall and says, "It was good to see that most drivers were enthusiastic and supportive. We came out in all sorts of weather, and I found participating very rewarding. The occasional hecklers were treated with courtesy and respect, as all beings should be."
Do such protests make a difference? You better believe it! According to the June 2021 Harper's Index, the average number of police killings in a U.S. city decreased 14 percent one year after its first Black Lives Matter gathering, and five years after its first gathering, police killings decreased by 30 percent!
The vigils are held at Courthouse Square Plaza in Warrenton Saturday mornings from 10:00 to 10:45.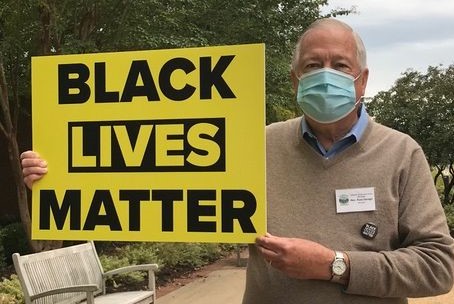 UUBridge Minister Rev. Russ Savage
Bottles and Wrappers and Cans: Oh My!
by Sue Daniels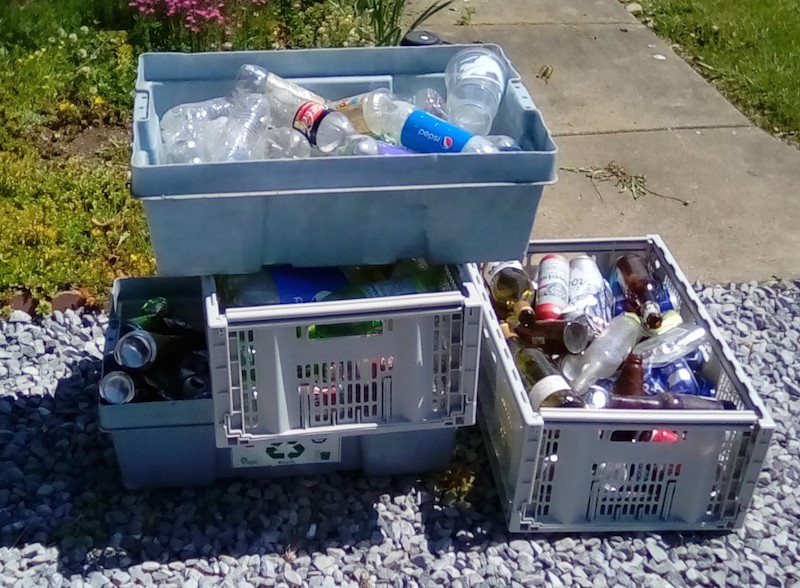 No lions or tigers or bears confronted the "Green Machine" as we picked up and bagged trash and recyclables in early May, although an aggressive dog briefly caused some anxiety. We even were undeterred by the unmowed grass along the roads where trash tends to hide.
Rev. Russ Savage and ESJ committee members Jay Allen and Lisa McQuail joined my husband Will and me on two of our Adopt-A-Highway sections, about two miles of roads in Page County. Numerous bags of trash were left for the highway department to dispose of, and we took four bins of items—mostly plastic and aluminum—to our local recycling station.
While enjoying views of the mountains around us and the cattle and horses grazing in the fields, I pondered why people toss trash on the roads. Selfishness? Lack of pride? Ignorance about recycling? Or do they just not believe that we all share, and need to care for, the land and our environment?
Lisa spoke with a couple of people out in their yards who pick up the trash on their property. She asked them to join us in writing letters to the local newspaper about this issue, and they agreed. A starting point, at least.
Recycling reduces the amount of trash that goes into landfills. Many of the items thrown out on roads and put into the waste stream are recyclable. Recycling programs in various locations usually accept aluminum and other cans, glass containers, and certain types of plastic.
Recycling materials uses less energy and emits less pollution than creating completely new items. Aluminum can be recycled indefinitely. About half of aluminum beverage cans in the U.S are recycled. According to GreenBiz, recycling old cans into new ones "uses 90 percent less energy and generates 90 percent less emissions compared to producing that same can from virgin material."
Glass is heavy and expensive to truck to places that reuse it, and it often breaks while being collected or sorted. Chemical and Engineering News reports that only about 33 percent of glass in the U.S. is actually recycled into new products. In states that require refundable deposits on beverage bottles, that amount is 98 percent. Fairfax County and other jurisdictions, including Page County, no longer recycle glass. Instead it is crushed and used for other purposes, such as layering into landfills.
Giant islands of plastic in the oceans, plastic washing up on beaches and being found in the stomachs of dead animals and fish, plastic bags blowing against fence lines and caught in trees—plastic is everywhere, even in the food we consume. Is recycling the answer? We will talk about that next month.
Not quite like Jack's beanstalk, but still pretty impressive! Various kinds of lettuce, chard and other greens continue to be donated to the local food pantries. At the food security gardens in Amissville and in Page County tomato, pepper, squash, cucumber, and even strawberry plants are in the ground.
A new feature is coming for the community gardens in Page. The county extension office is developing plans for "Free Market Fridays" at the gardens. In addition to having produce available, information and brief classes on nutrition and how to prepare the vegetables will be provided. We look forward to helping in this community outreach.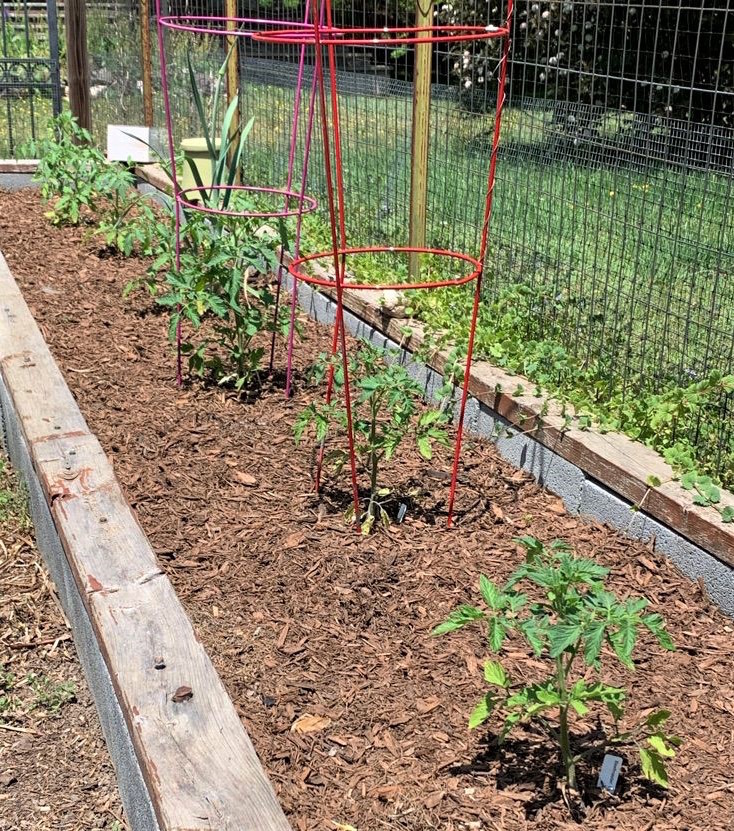 Tomato Plants in Amissville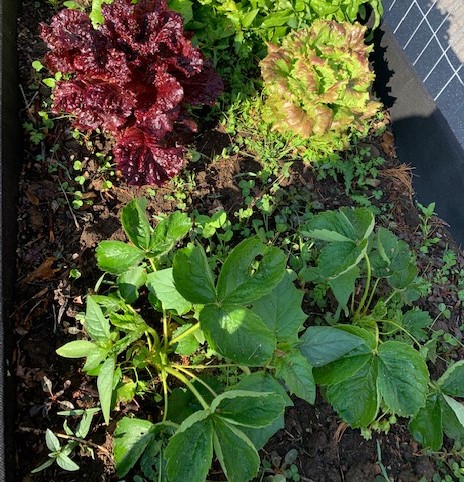 Lettuce and strawberries in Page County
To our readers: we invite you to use the comments section below not only to give your thoughts on what you read here, but to recommend things to read, watch, or listen to related to environment and social justice. Also of interest are your own activities or accomplishments in the environment/social justice realm.